Read also in / Olvasd más nyelven: Hungarian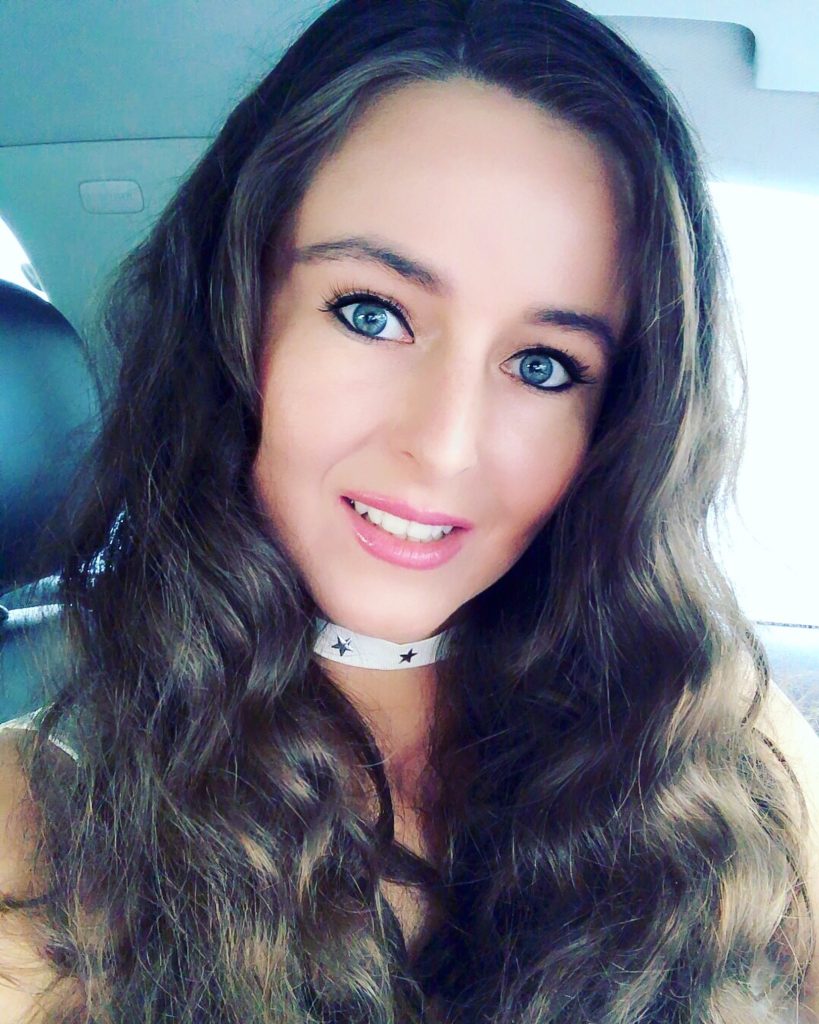 My name is Eniko Toth and I am the owner and writer of the fashion blog called Fashion Victim. I am currently doing a Master's degree at the Faculty of Pedagogy and Psychology in Eötvös Loránd University. I started my independent and bilingual fashion blog in the summer of 2011. I am a part-time blogger at the moment.
My goal is to broaden the horizons of the those receptive to fashion. I write about talented but not widely known designers, well-known brands and companies, report foreign and domestic fashion events, and also show personal outfits from time to time. I provide valuable, up-to-date, progressive and authentic content daily for my currently more than 490000 real members of my readership. Communicating style is very important to me, since it helps everyone find themselves and to be confident about their appearance and looks.
My social media reach in numbers at the moment:
Instagram: 408862
Facebook: 490656
Twitter: 22325
Pinterest: 6534

References and invitations:

• Foreign online appearance: Vogue Italia, ELLE Arabia, Fashionista, Tezenis, Le 21éme – Adam Katz Sinding, Minzkou, Haute La Mode, (Teen Vogue, ELLE Japan, The New York Times – Bill Cunningham, Nowfashion, New York Daily News, Amazon.de,)
• Foreign television appearance: FashionTV
• Ambassador: Olympus
•  Domestic press appearance: Joy magazine
•  Regular domestic online appearance: InStyle magazine, Joy magazine
• One-time domestic online appearance: Marquard Media, Éva magazine, Shopping, Retikül, Marie Claire magazine
• Campaigns: Pandora, Dove, Max Factor Hungary, AXN Hungary
• Collaborations / Cooperations: Luisa Via Roma, The Ritz-Carlton, The Peninsula Hotel Paris, Honor, Chanel, Pandora, Starbucks, adidas, Tezenis, Skechers, Katrin Langer, Tonya Hawkes, Anya Caliendo, Ana Ljubinkovic, Abo by Iva Ljubinkovic, February 1st, Daria Y Maria, Liron Itzhakov, S-Dress, Kerikit, Del Duca, Mohee, Doriane Van Overeem, DF Sportswear, Kachel, Native shoes, KAYU, Bazena, Urania Gazelli, James Piatt, L'Oréal, Omorovicza, Max Factor, Monis Jewelry, Loves Adores, Saraghina eyewear, Marc Bale, Petrushka, Anna Daubner, Anna Amélie, Dorottya Diamond Palace – Caprice, Chapeau Egoiste, Flat Tummy Tea, Dressa Magyarország, Ékszer e-shop, Lux-Factor, Freddy, iblazr, My EQUA, Fytofontana, Biola, Dr. Steinberger, etc.
• Press events / invitations: MAC Cosmetics, GHD, Furla, Ligne Roset, Lenov, Sugarshop!, GAS Jeans, Bock pincészet, Törley Mária kiállítás, Kempinski hotel Breakfast like Tiffany's, Heineken, Madison, etc.
• Advertisement: The Room magazine
• International fashion weeks and other invitations:
→ 2012. February, London Fashion Week: Meet & Greet – Manolo Blahnik
→ 2012. September, London Fashion Week: KTZ, Sass & Bide, Jean-Pierre Braganza, Kristian Aadnevik, Georgia Hardinge, Ekaterina Kukhareva, Holly Fulton, John Rocha show etc.
→ London Fashion Week: 3 times Burberry est (Regent street)
→ 2012. September, Paris: 1 time Blumarine event / presentation  (Avenue Montaigne)
→ Florence: 3 times Luisa via Roma FIRENZE4EVER, 2 times Pitti Immagine Uomo tradeshow
→ Pitti Uomo: Hatem Sayki, Dimattia, La Sala Bianca 2.0: Caterina Mariani, Stefano Manetti, etc.
→ 2013. June, London Collection Men: KTZ, Trine Lindegaard, The House of Nines
→ 2013. September, Paris Fashion Week: Talbot Runhof, Allude, Pascal Millet, Nicolas Andreas Taralis, Aganovich, Moon Young Hee, Fatima Lopes, Luis Buchinho, VSP show, KTZ after party, Manish Arora pop-up store event
→ 2013. September, Paris Fashion Week – Premier Classe: Urania Gazelli, Maria Francesca Pepe, Kseniya, Pasotti, Noel Stewart Millinery
→ 2013. December: British Fashion Awards
→ Other invitations: Berlin Showroom, Martina Spetlova, Jayne Pierson, Susanne Kaufmann, etc.
→ 2014. January, Berlin Fashion Week: Miranda Konstantinidou, Bagaz, Brachmann, Franzius, Anne Gorke, Marc Stone, Ivanman, Esther Perbandt, Studio Kaprol, etc.
→ 2014. January, Paris, haute couture week: Tony Ward, Julien Fournié, Serkan Cura, Charlotte Licha, Zuhaitz, ILJA
→ 2014. February, London Fashion Week: Mother of Pearl, Lulu Liu, Vinti Andrews, Tzuji, Monochrome, Dope Chef, Natalia Kaut press day
→ 2014. January, Paris: Conférence de presse de la Maison Méditerranéenne des Métiers de la Mode
→ 2014. February, Paris Fashion Week: Méhlé, Vendome Luxury, etc.
→ 2014. April: Mercedes Benz Fashion Week Almaty (Kazahstan)
→ 2014. July, Paris, haute couture week: ILJA, Charlie Le Mindu, Icosphere, Julien Fournié, Tony Ward, Bowie Wong, Serkan Cura
→ 2014. July, Berlin Fashion Week: Miranda Konstantinidou, Laurél, Ivanman, Aleks Kurkowski, etc.
→ 2014. September, New York Fashion Week: Hervé Léger, Naeem Khan, Helen Yarmak, Anya Caliendo, Peter Som, Diesel Black Gold, Bibhu Mohapatra, Lie Sang Bong, Derek Lam, Nanette Lepore, Anna Sui, Kate Spade, Desigual, Stella Nolasco, Monique Lhullier, Lela Rose, Zimmermann, Sachin + Babi, Chromat, Venexiana by Kati Stern, 3.1 Phillip Lim, Noon by Noor, Vivienne Hu, August Getty, Rolando Santana, Michael Costello, Litke, Rochambeau, Etxeberria, Nicholas K, Custo Barcelona, Sally LaPointe, Saunder, Luis Antonio, Arden Wohl x Cri de Couer, Sandy Liang, The White Space, Pamella Roland, The Malan Breton, Charlotte Ronson, Erin Fetherston, Nanette Lepore, Cynthia Rowley, Rubin & Chapelle, Tadashi Shoji, Zang Toi, Stella Nolasco, Dorin Negrau, Grungy Gentleman, Costello Tagliapietra, Osklen, Robert Geller, Parkchoonmoo, Czar by Cesar Galindo, Projecto Mental, Mara Hoffman, The White Space, Project Ethos, Maria Ke Fisherman, Public School, Deola Sagoe / Clan, Art Hearts Fashion, Concept Korea, Sachika, NYFW launch party, Rakuten launch party, Chromat after party, etc.
→ 2014. September, London Fashion Week: Tom Ford, Tata Naka, Dora Abodi
→ 2014. September, Paris Fashion Week: Manish Arora, Sharon Wauchob, Tony Ward private appointment & presentation, Sicis private appointment, Napsugar von Bittera, Urania Gazelli, Bernard Delettrez, Rocio, Wendy Yue, Fyodor Golan, Farah Khan, Monochrome (tradeshow), etc.
→ 2014. October, New York International Bridal Fashion Week: Galia Lahav
→ 2014. October, Art Hearts Fashion, Los Angeles: Michael Costello, MT Costello, M the Movement, Tumbler and Tipsy, Maya Hansen, Jun Escario, Zhang JingJing, Sachika, Mister Triple X
→ 2014. December: sponsored trip to Vienna, for the Olympus christmas workshop and event
→ 2015. January: Luisa via Roma Firenze4ever bloggerparty
→ 2015. February, London Fashion Week: Sophia Webster, David Koma, Markus Lupfer, Ashish, Belstaff, Issa, Holly Fulton, Noel Stewart, Napsugar von Bittera, Eudon Choi, etc.
→ 2015. February, Milan Fashion Week: Tod's, Amen
→ 2015. March, London Hat Week, House of Fraser: Carrie Jenkinson Millinery
→ 2015. July: sponsored trip to Berlin Fashion Week with Olympus: workshop, editorial shooting, pool party
→ 2015. September, London: Furla VFNO event
→ 2015. September, London Fashion Week: Anya Hindmarch, ISSA, Mary Katrantzou private presentation, Dice Kayek private presentation, Huishan Zhang private presentation, Preciously Paris private presentation, Camilla Elphick presentation, Natasha Zinko presentation, Tata Naka, Fyodor Golan, Orla Kiely, Mary Benson, Mayra Fedane presentation, Noel Stewart presentation, Steven Tai, Manuel Facchini, Wilson PK, Rejina Pyo, KTZ afterparty
→ 2015. September, Milan Fashion Week: Ermanno Scervino, Byblos, Genny, John Richmond, Le Silla prezentáció, Alberto Guardiani prezentáció, Mila Schön, Gianluca Capannolo, Aigner, Simonetta Ravizza, Cristiano Burani, Luisa Beccaria, Cividini, Vic Matié, Leitmotiv, Ludovica Amati, Alberto Zambelli, Carlos Gin, Miguel Vieira, Fatima Val, Chicca Lualdi, Damico, Redemption
→ 2015. September-October, Paris Fashion Week: Elie Saab, Moncler Gamme Rouge, Valentin Yudashkin, Manish Arora, Issey Miyake, Chalayan, John Galliano, Talbot Runhof, Anne Sofie Madsen, Pascal Millet, Sharon Wauchob, Mira Mikati presentation, Walter Steiger presentation, Repetto presentation, Swarovski 120 party – Rizzoli book launch, Swarovski showroom, Karapetyan, Wendy Yue, Morphée, The Twist, Daria de Koning, Sarah Weinstock fine jewelry presentation, Manish Arora afterparty, Pascal Millet afterparty
→ 2015. October, Milan: Charity gala dinner at Palazzo Parigi luxury hotel
→ 2016. February, Stockholm: Olympus The Talk and The Move
→ 2016. February, London Fashion Week: Antonio Berardi, Natasha Zinko, Arnaa, Tata Naka, Markus Lupfer, Fyodor Golan, Roberta Einer, Belstaff, Mary Benson, Pringle of Scotland, Xiao Li, Edeline Lee, Danielle Romeril, Sid Neigum, Minki Cheng, Steventai, Omer Asim, Georgia Hardinge, Gabriel Vielma, Eudon Choi, Rein, Three Floor, Noel Stewart, Rejina Pyo
→ 2016. February, Milan Fashion Week: Marco de Vincenzo, Blumarine, Marni, Antonio Marras, Stella Jean, Brian Atwood, Francesco Scognamiglio, Ermanno Scervino, Vivetta, Just Cavalli, Au Jour Le Jour, Luisa Beccaria, Genny, Aigner, Simonetta Ravizza, Laura Biagiotti, Rossella Jardini, Esme Vie, Andrea Incontri, Le Silla, Rossignol, Baldinini, Chiara Ferragni, Bertoni 1949, Tod's re-see, Elena Ghisellini, Orciani, Leitmotiv, Kiton, Cristiano Burani, Wunderkind, Cividini, Roberto Musso, Massimo Rebecchi, Callens, Cambiaghi, Momoni cocktail party
→ 2016. March, Paris Fashion Week: Iris in Paris, Mira Mikati, Valentin Yudashkin, Alexandre Vauthier, Moynat, Les Petits Joueurs, Maison Kitsuné, Issey Miyake, Cedric Charlier, Guy Laroche, Anna Demeulemeester, Alfredo Villalba, Drome, Rahul Mishra, Yang Li, Veronique Branquinho, Redemption, Pascal Millet, Anne Sofie Madsen, Dorhout Mees, YDE, Neith Nyer, Liselore Frowijn, Furland, Niels Peeraer, Urania Gazelli, Imoni showroom, Maison Marquise
→ 2016. April, Milan Design Week: Sicis, Urania Gazelli
→ 2016. July, Paris, Haute Couture week: sponsored trip to the couture week with Olympus: Viktor & Rolf, Guo Pei, Chanel fine jewelry presentation, Boucheron fine jewelry presentation, Magdalena Frackowiak jewelry presentation, Georges Chakra, on aura tout vu, Rami Kadi, Georges Hobeika, Aouadi, Couturissimo, Ashi Studio, Tony Ward, Julien Fournié, Bowie Wong, Yanina Couture, Antonio Grimaldi, Rami Al Ali, Ziad Nakad, Franck Sorbier, Imane Ayissi
→ 2016. July, Budapest: Women in Chanel exhibition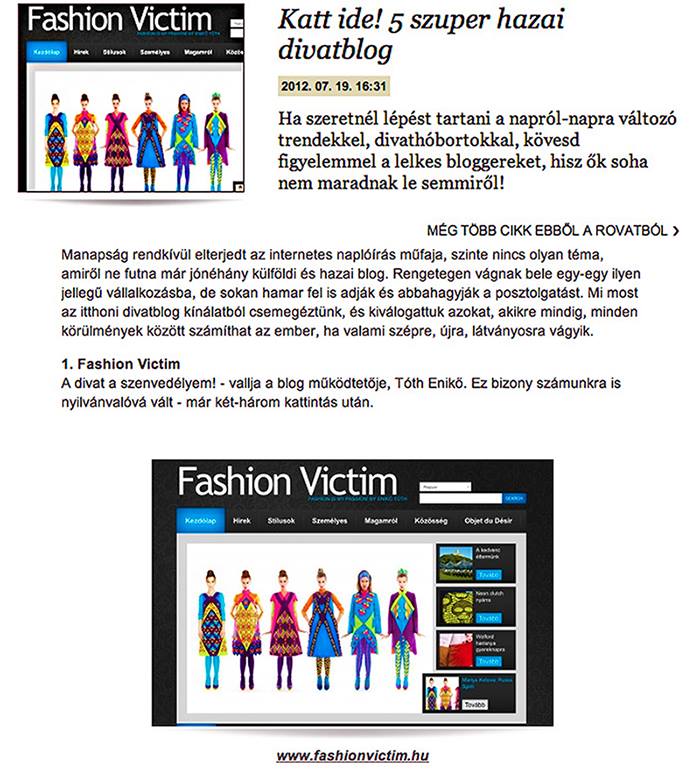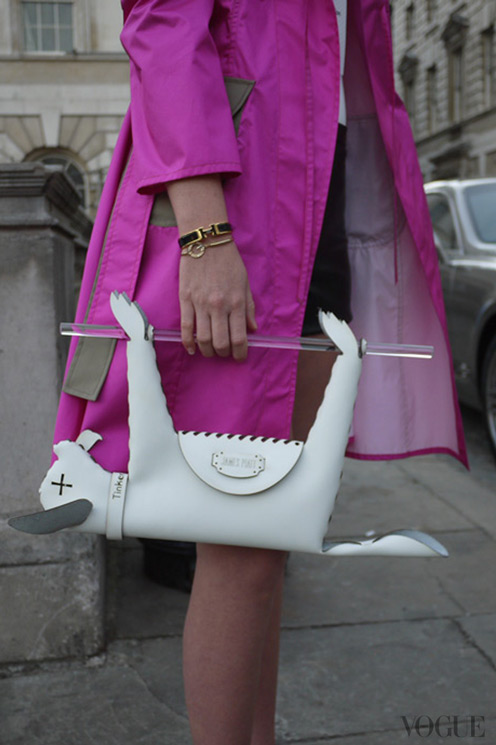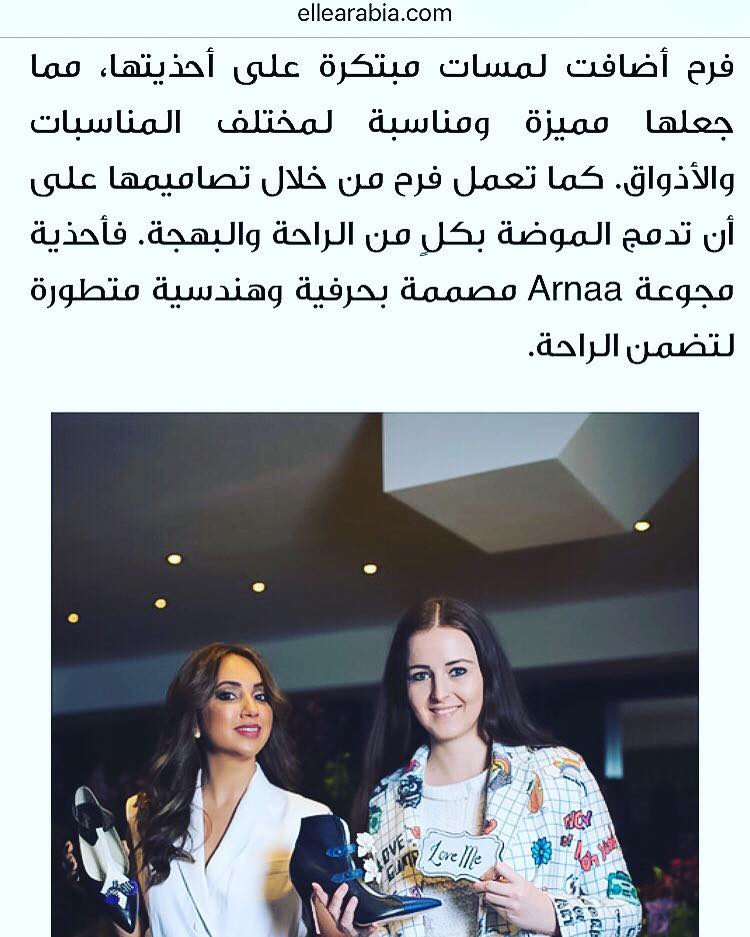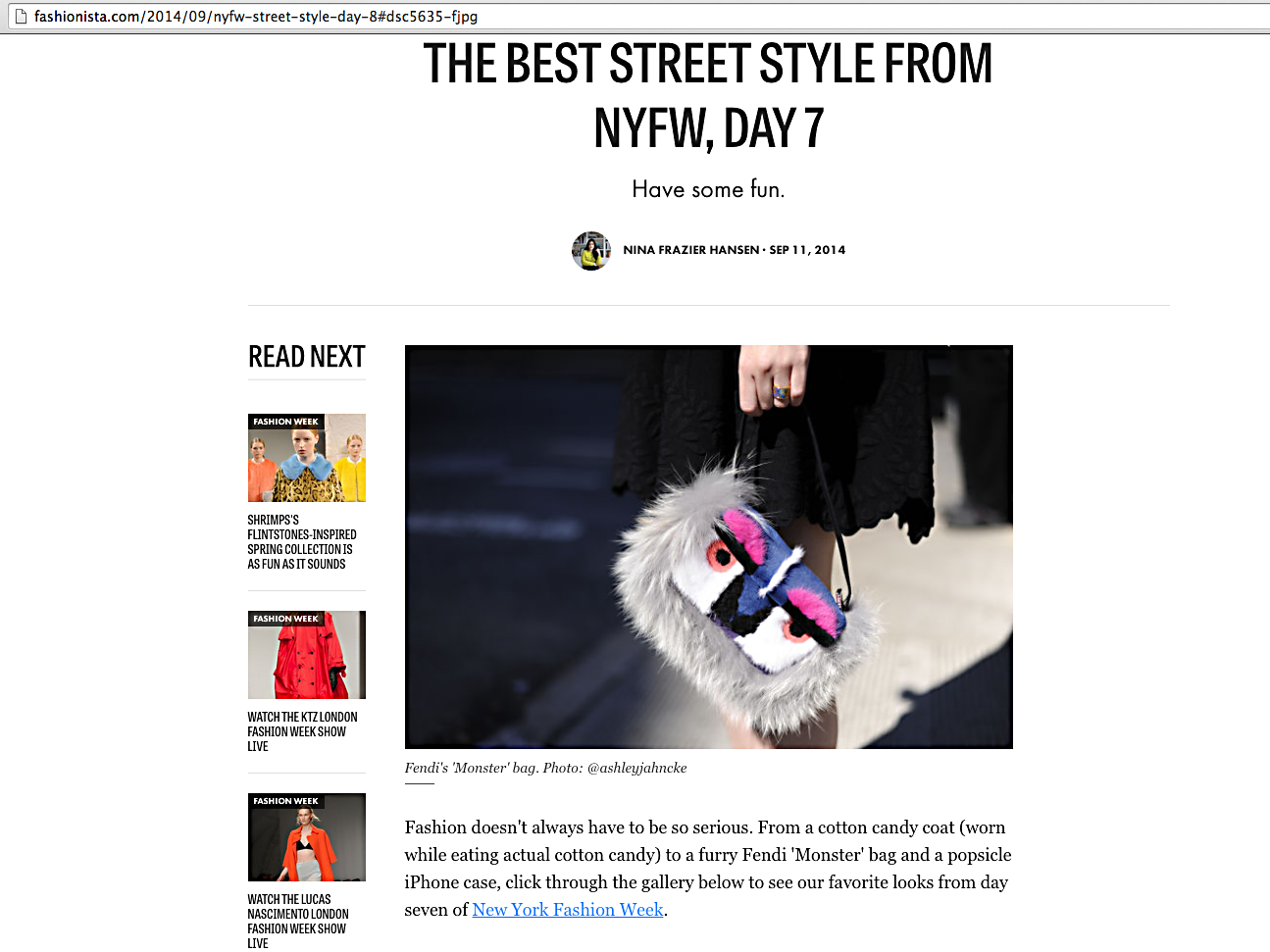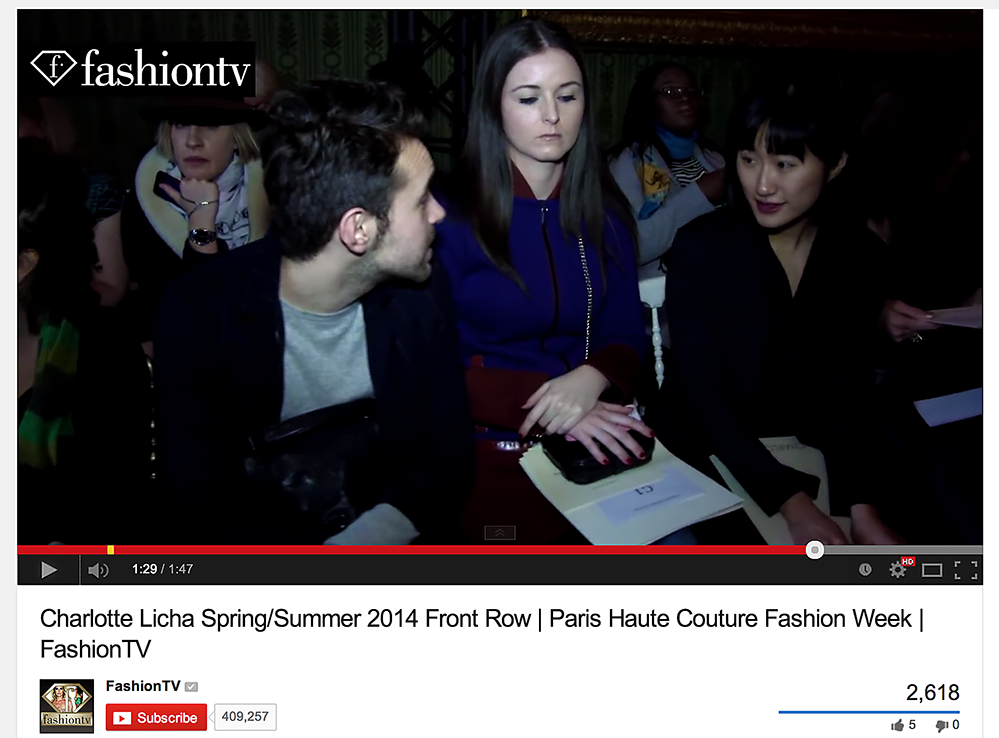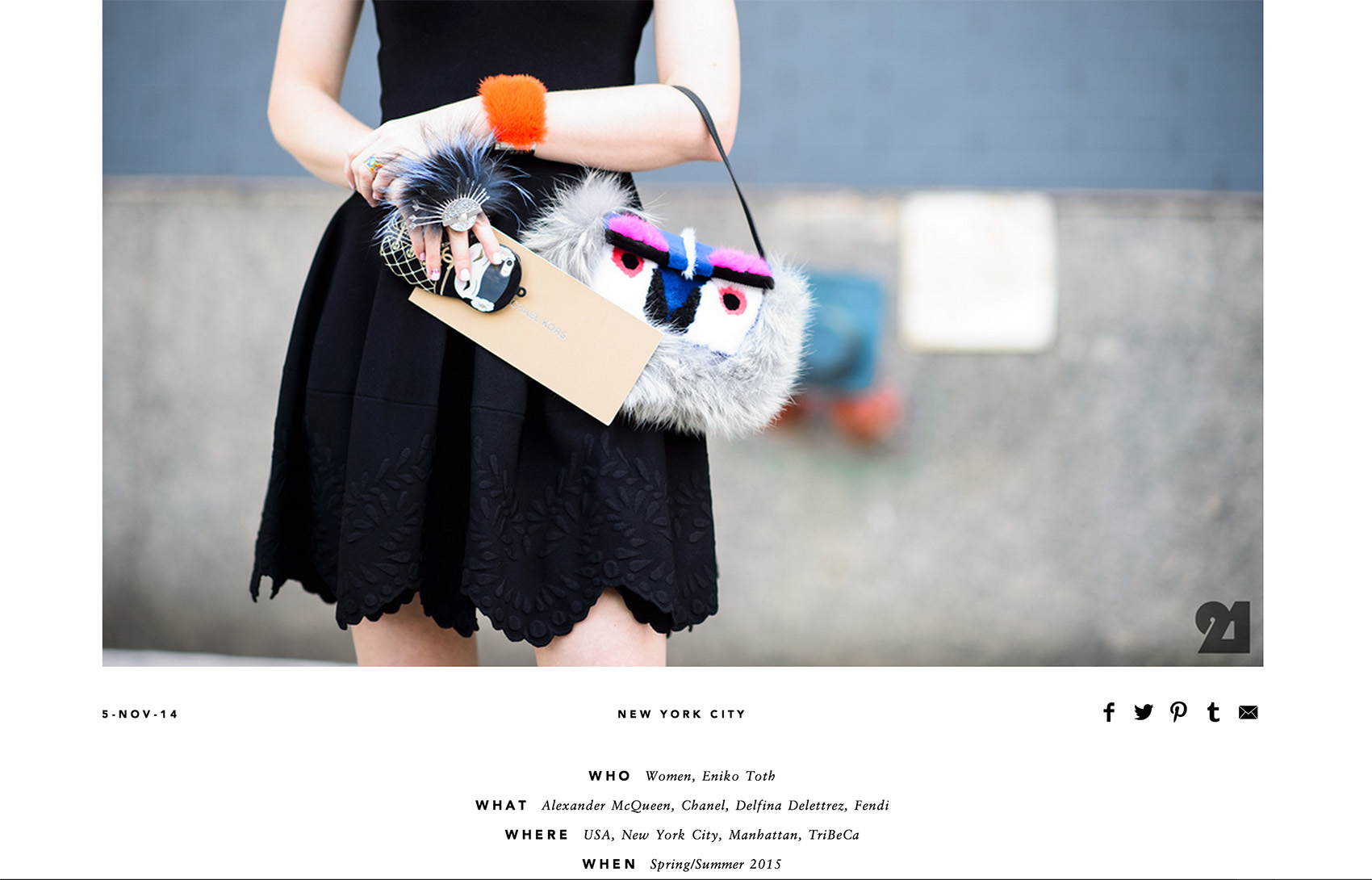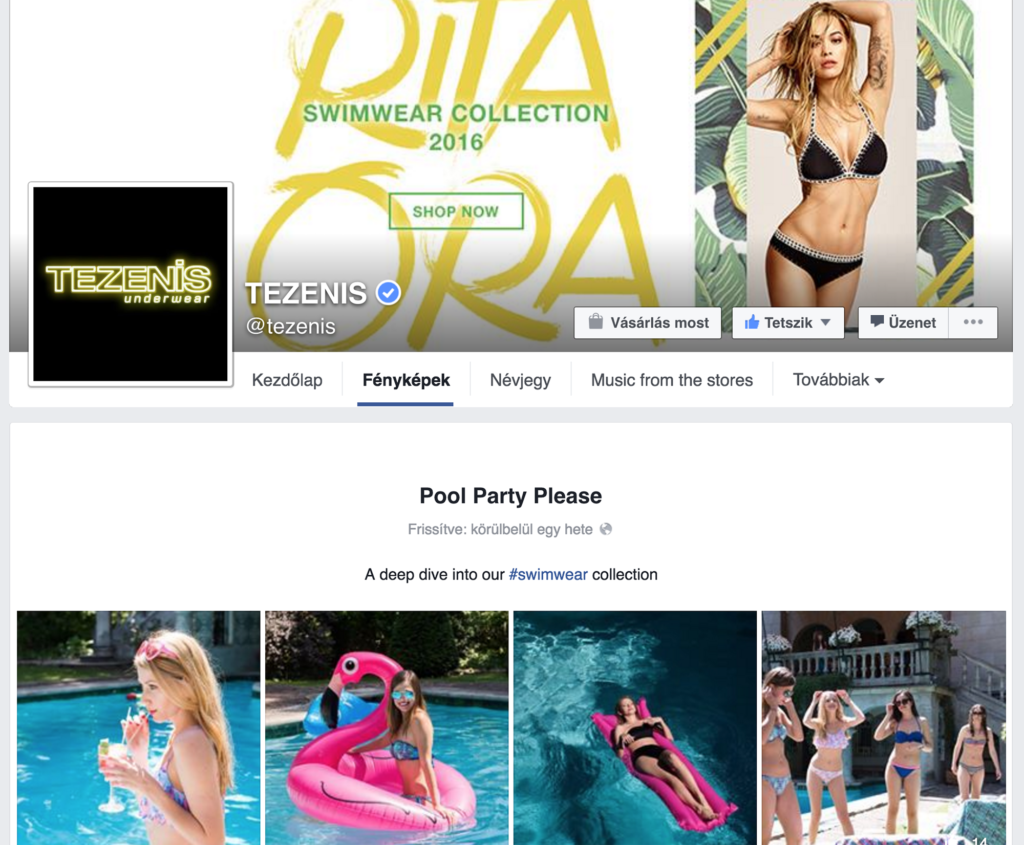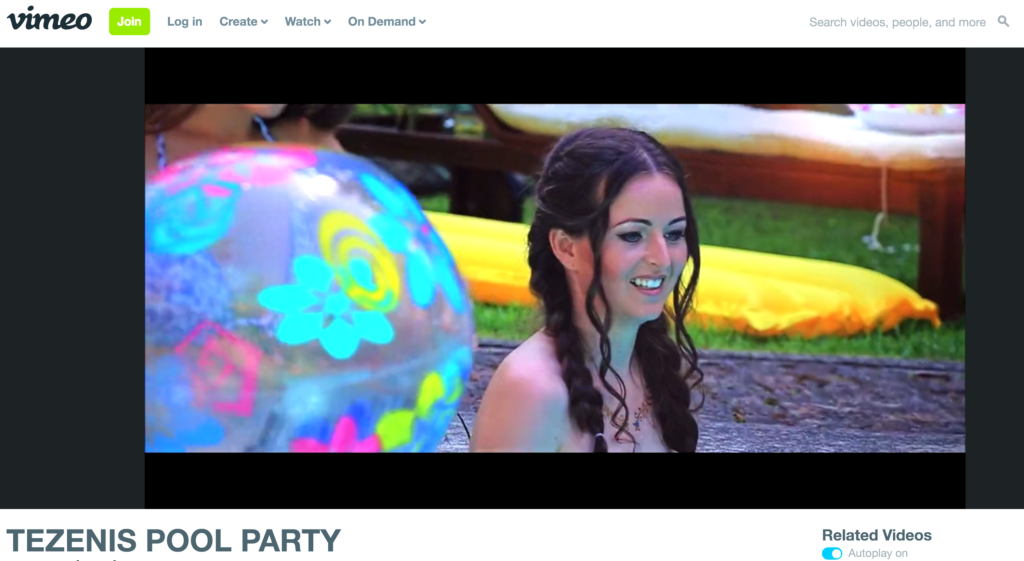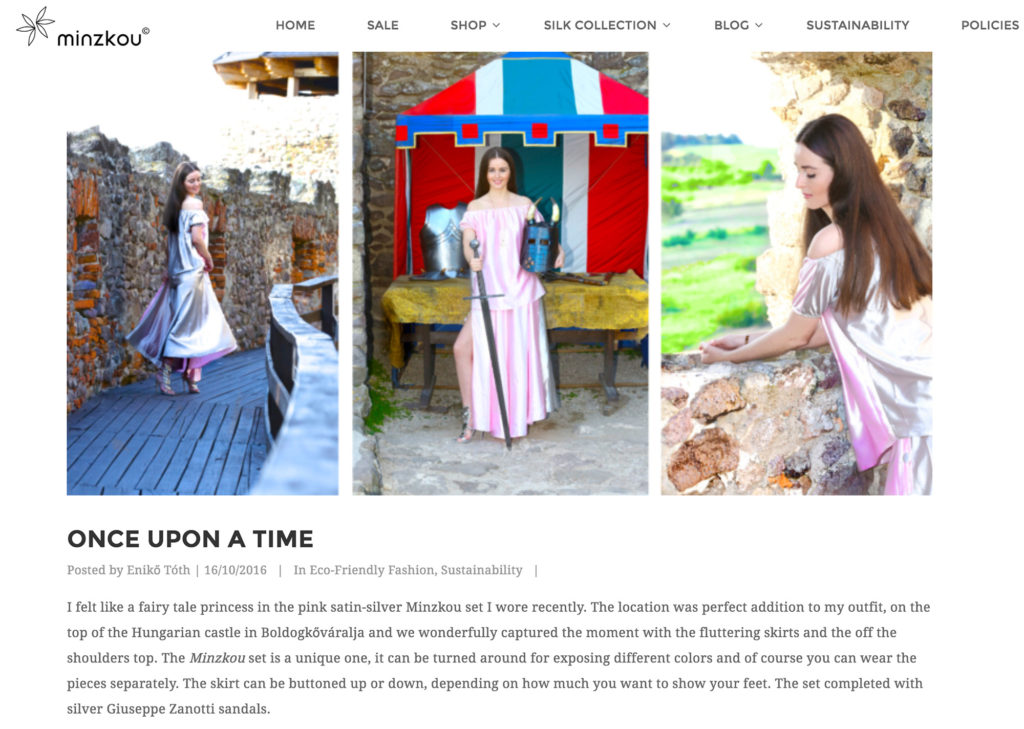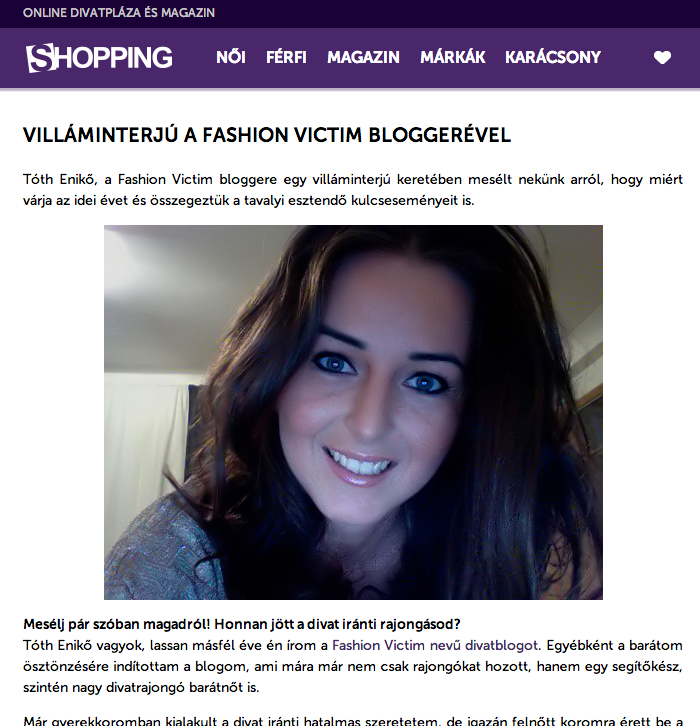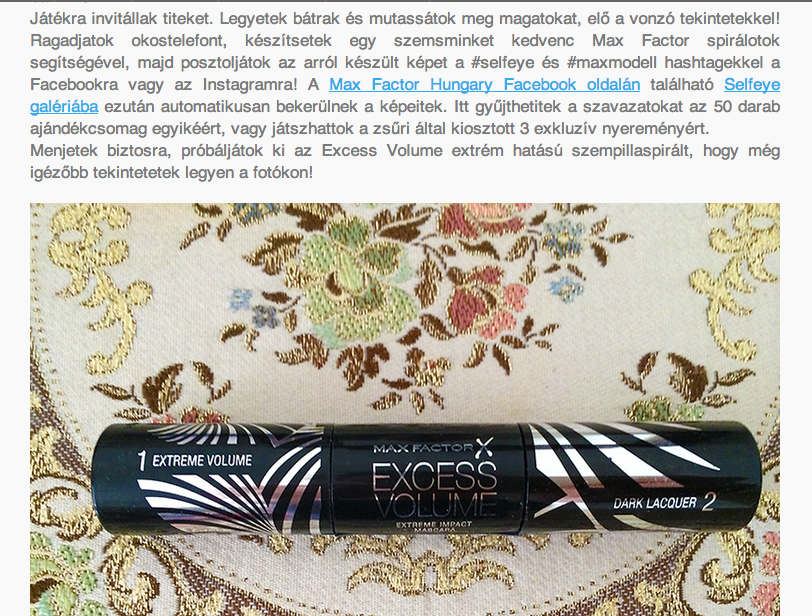 Joy magazine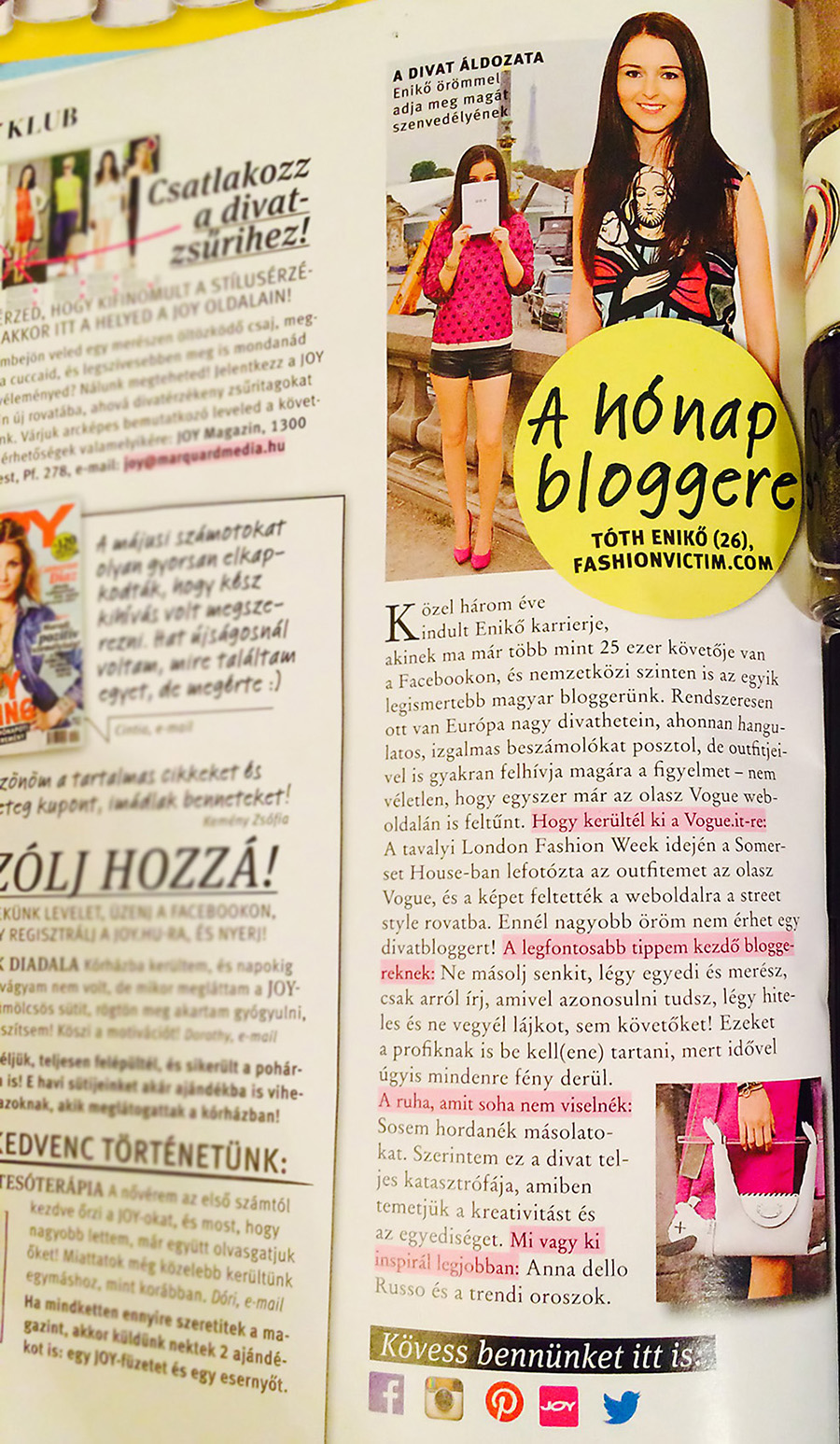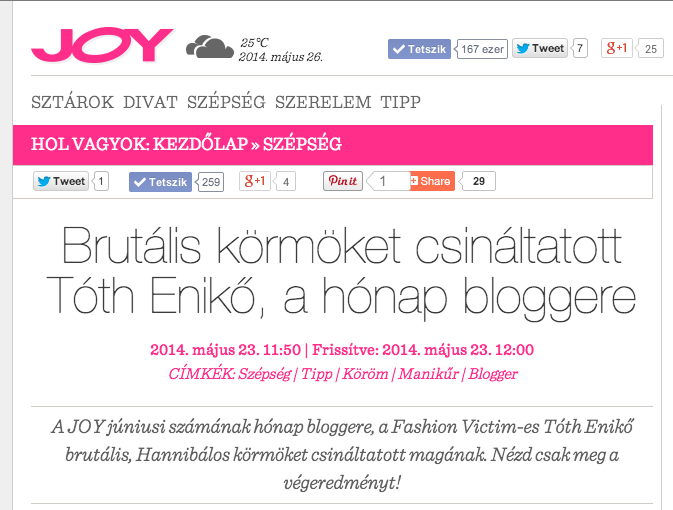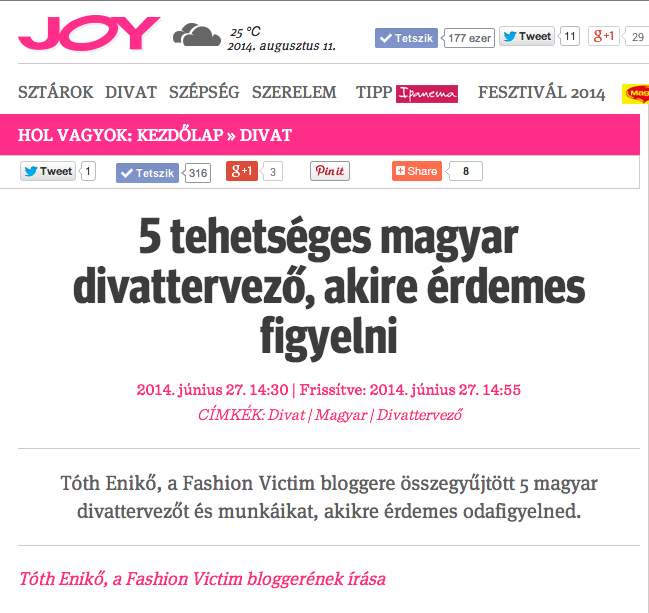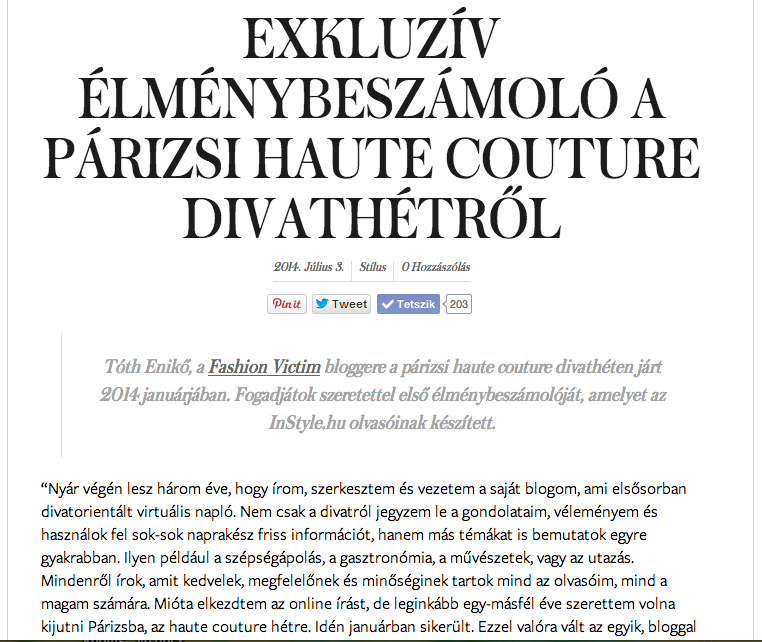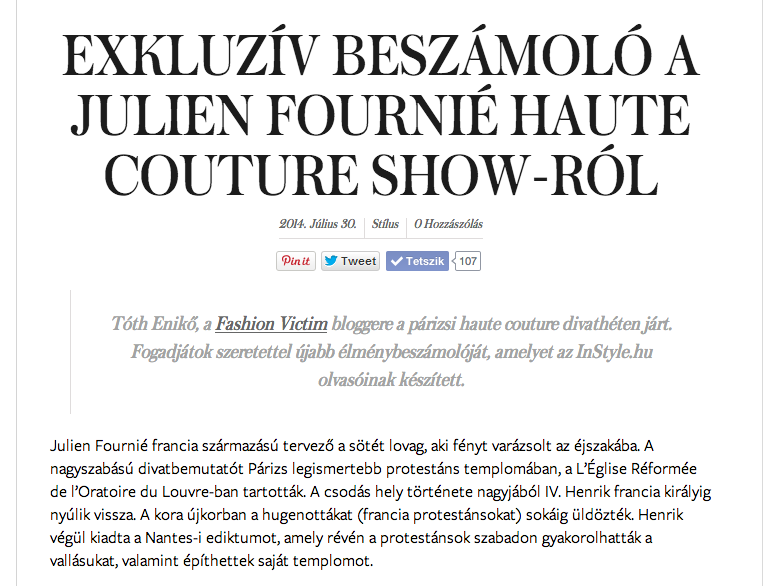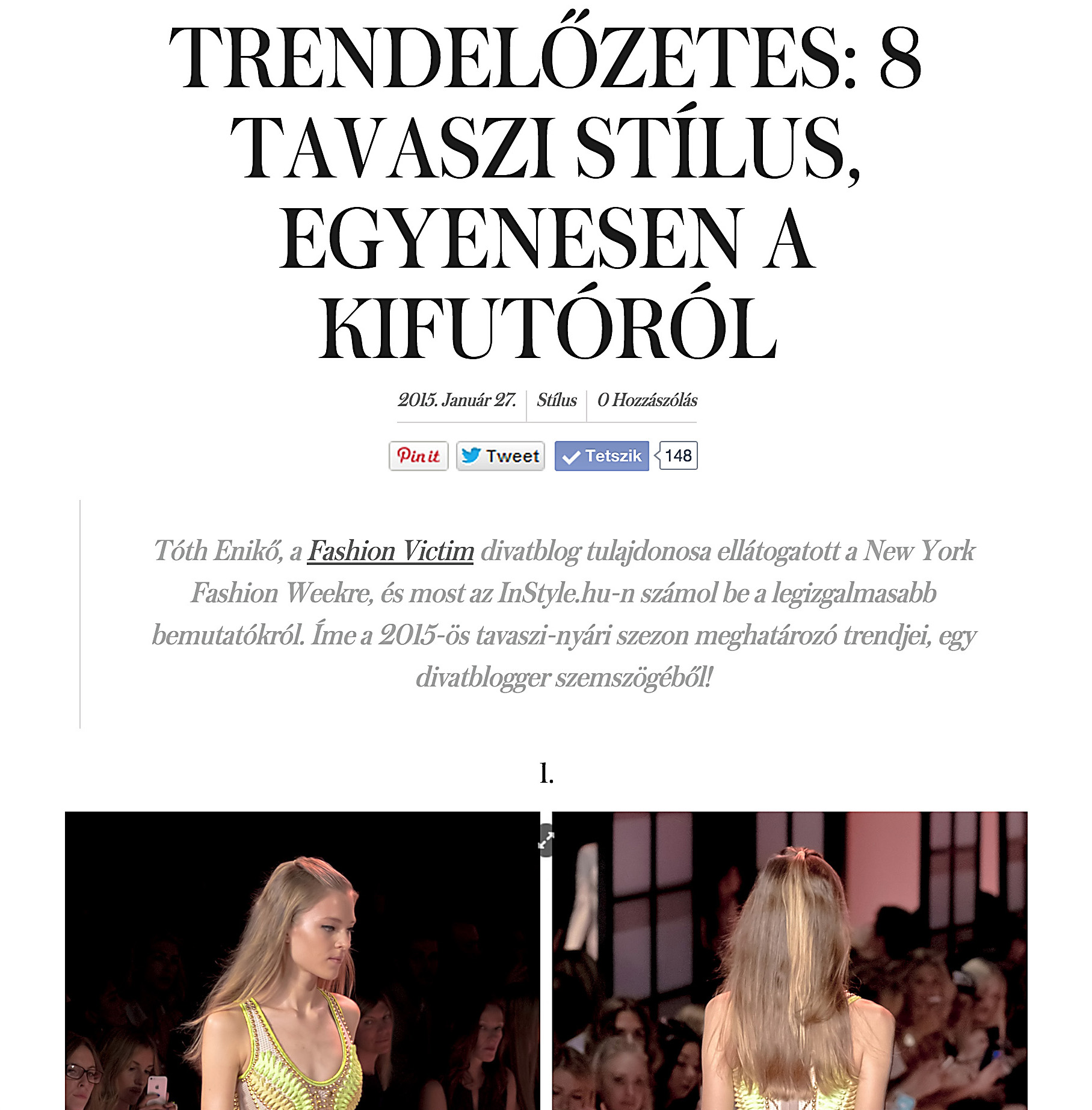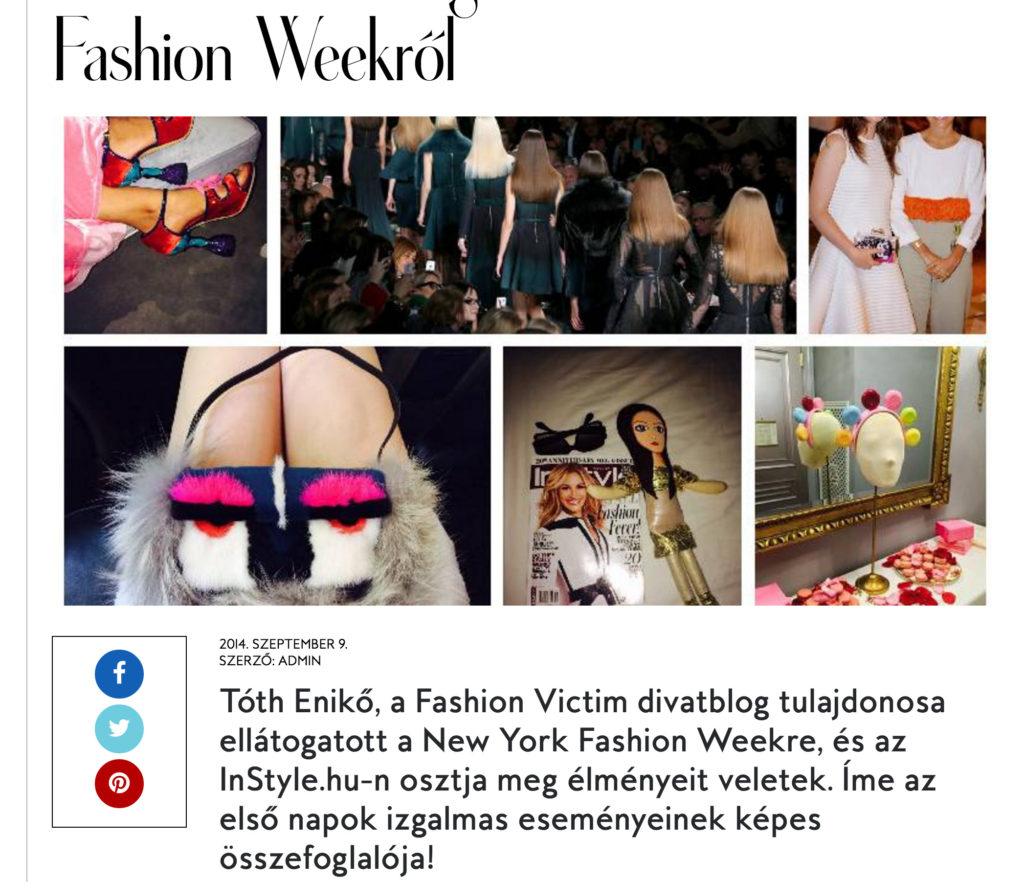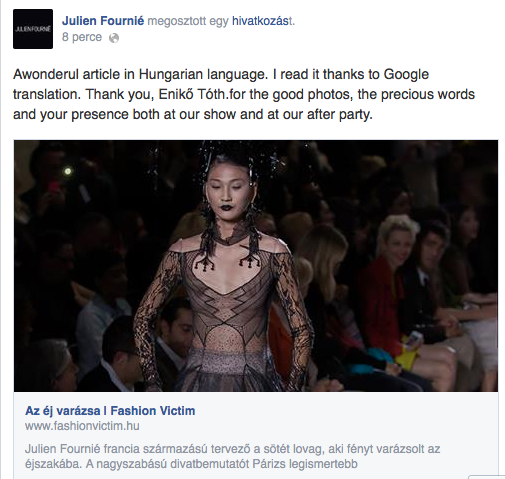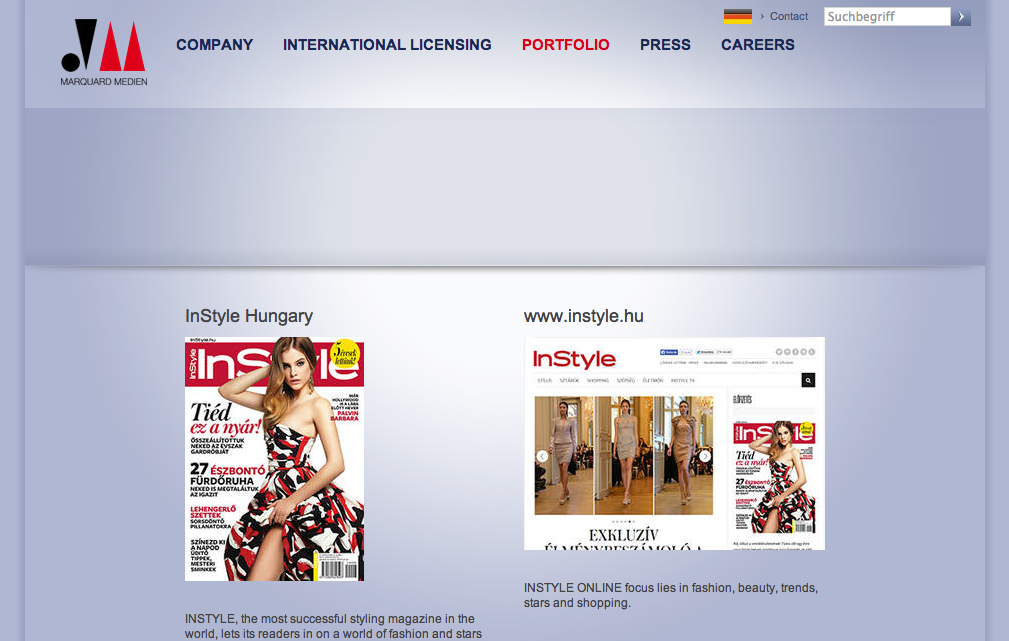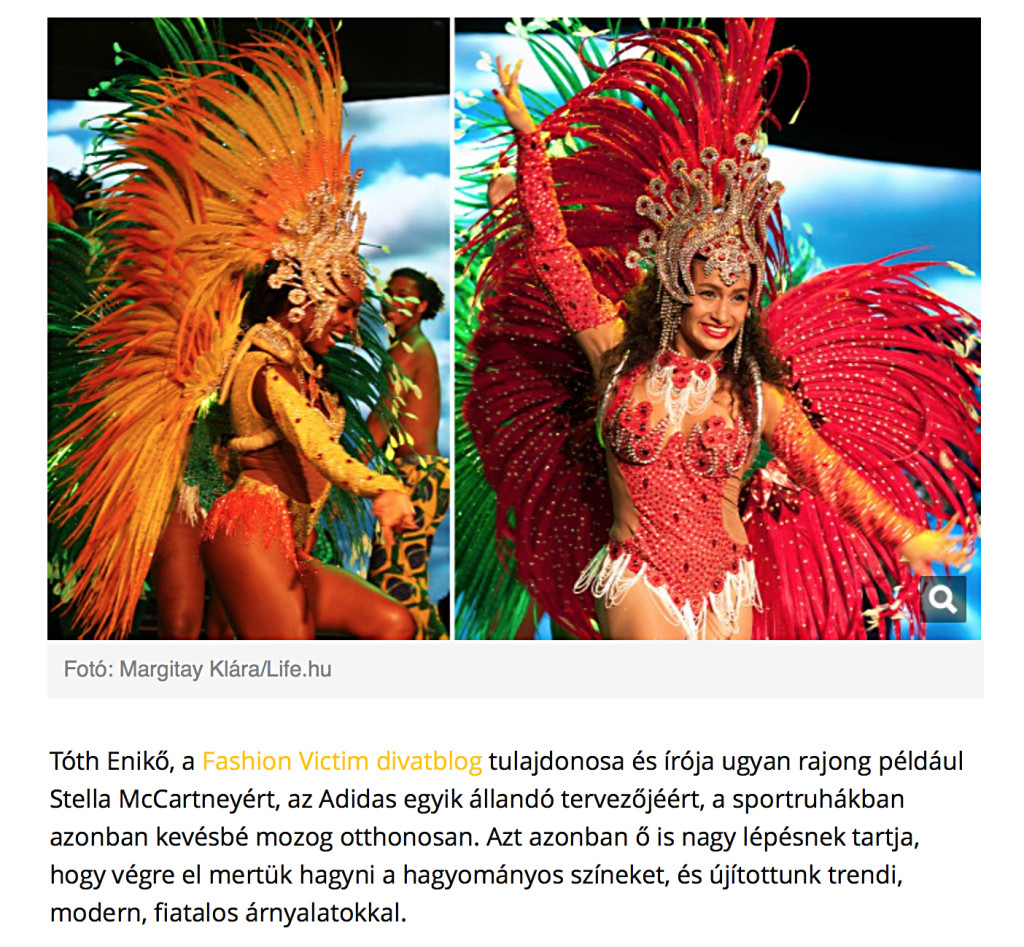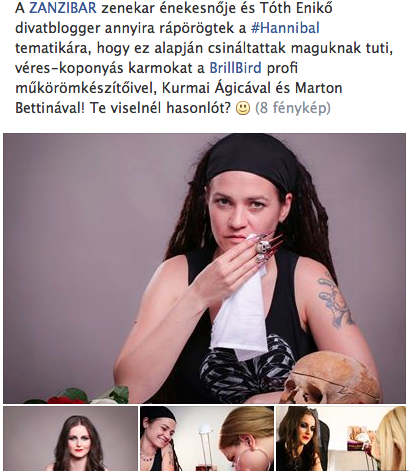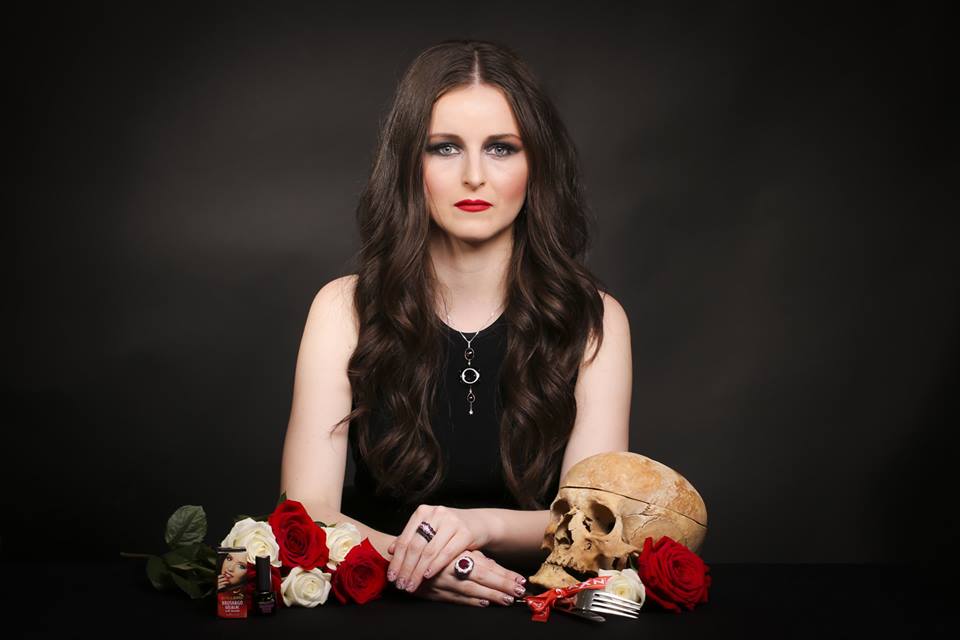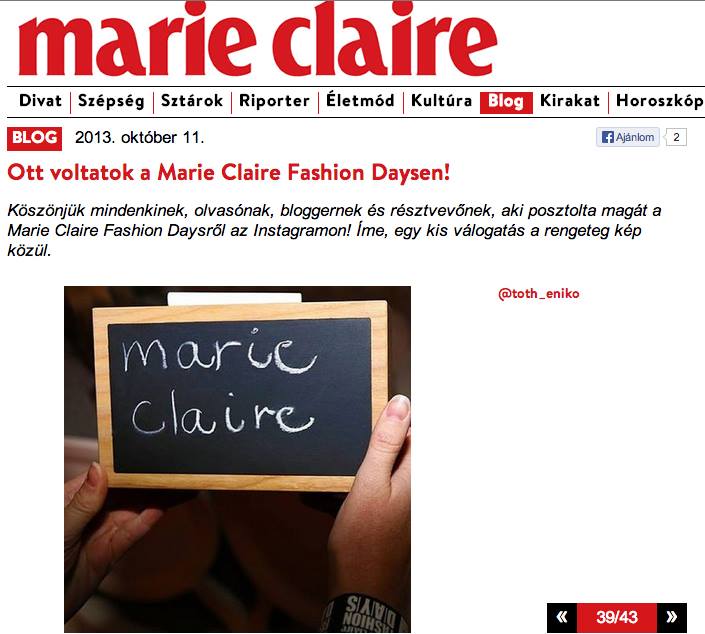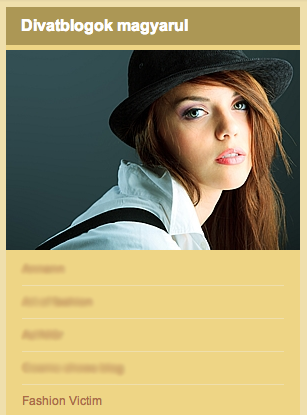 Privacy policy  
All contents are courtesy of Eniko Toth and all related intellectual property (articles, own photos, logos, slogans, graphic elements and other writings, etc.) belongs to her and the Fashion Victim blog. These properties can only be reproduced and used by written consent of Eniko Toth with official binding agreement signed either on paper or digitally. Using these properties without written consent causing immediate legal actions. The site reserves the right to change its policy without notice.